Bulk Product Editor
Win back your time
Ablestar's Shopify Bulk Editor helps you increase productivity and save countless hours.
The Old Way
Manual edits, constant mistakes, zero clarity
Why update products by hand, when you don't have to? Running your store takes a lot of time — the last thing you want is to update products manually.
Constant mistakes
You're bound to input the wrong entry from time to time—you're not a machine, but Ablestar is.
Manual edits
A simple change like 'add a tag to all products under $15' can take you hours.
Zero clarity
Because there's no audit log, you have no way of seeing what changes have been made. There's also no way of rolling back these changes if you make a mistake.
The New Way
Spend more time on what you do best
Dynamically edit products and control recent changes, from the tip of your fingers.
Save hours of work
You guessed it. Dynamically edit prices, descriptions, tags, and more with smart rules and placeholders, and win back your time.
"Best customer service out there on any Shopify app used so far. I would have paid 4X more than the price of the app."
"I needed a quick way to update all my products for our Pre-Black Friday sale. Thank you, this app saved me hours of time and it was a fast learn"
"This app is amazing! I edited over 200 of my products' descriptions . . . This would've taken me hours if not for this app"
"This is one of the best apps I've used, it saves us much time . . . Thank you so much for this app!"
"This app is a life saver. Also the developer is super fast to respond and easy to work with."
"This app is all stars- amazing!!!!! I . . . am performing bulk edit functions that used to take me hours in seconds . . . AMAZING"
Make edits (direct in the app)
Easily apply search filters to determine the products and fields you want to edit, then make edits while you focus on doing something else. Like making coffee.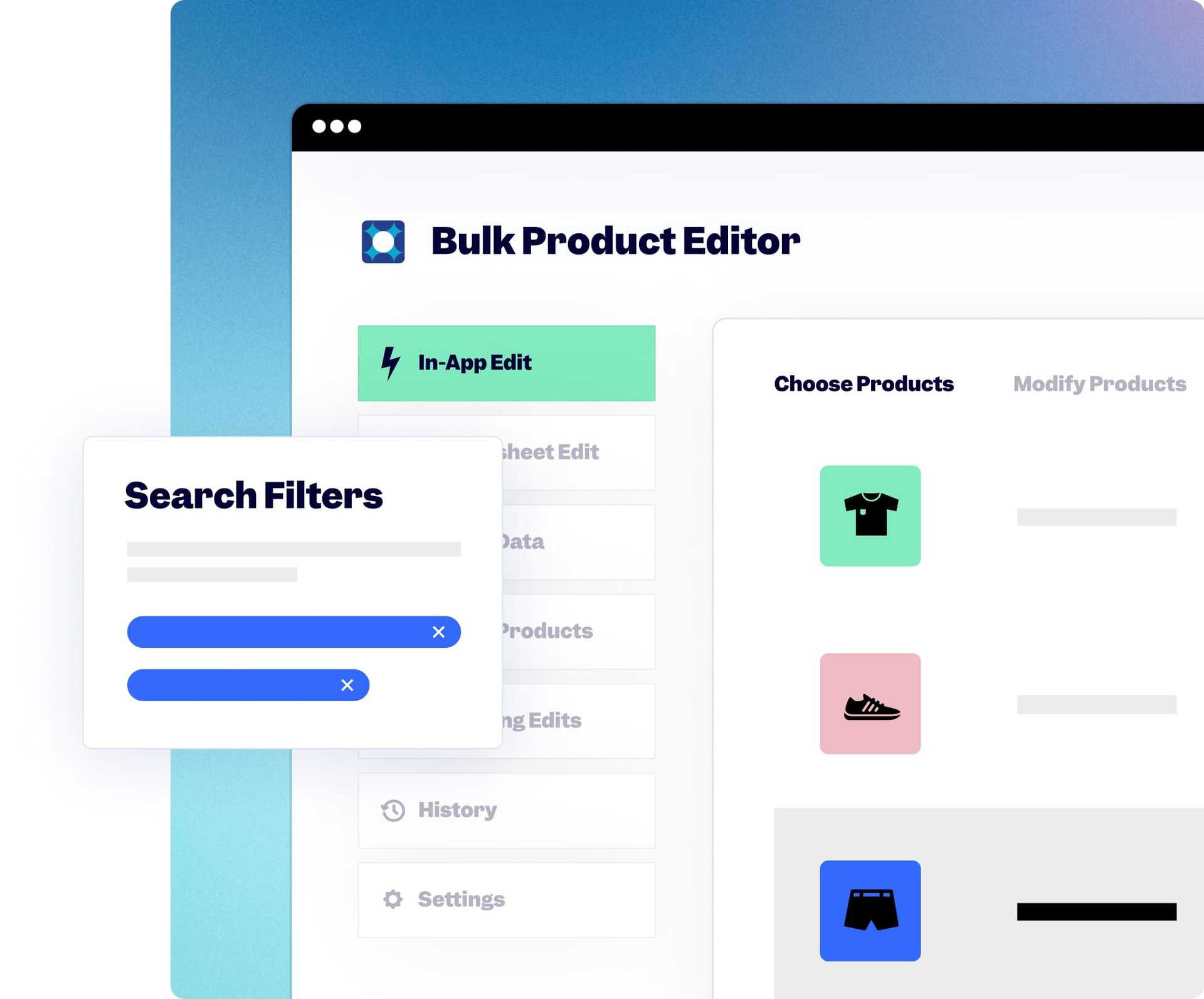 Import & export product data from Shopify
Import products from a spreadsheet or export product data in a custom format. How? Upload the file and map the columns to Shopify's fields (price title, description—you get the point).