A broken link may cost you a sale and can also impact your brand and revenue in the long term. Link issues erode customer trust and could lower your search engine rankings, affecting online visibility.
Finding and fixing broken links is easier than ever thanks to Shopify Broken Link Checker, a new free tool for Shopify stores. Powered by Ablestar Link Manager, the online tool compiles and delivers a report of broken links to your inbox in minutes.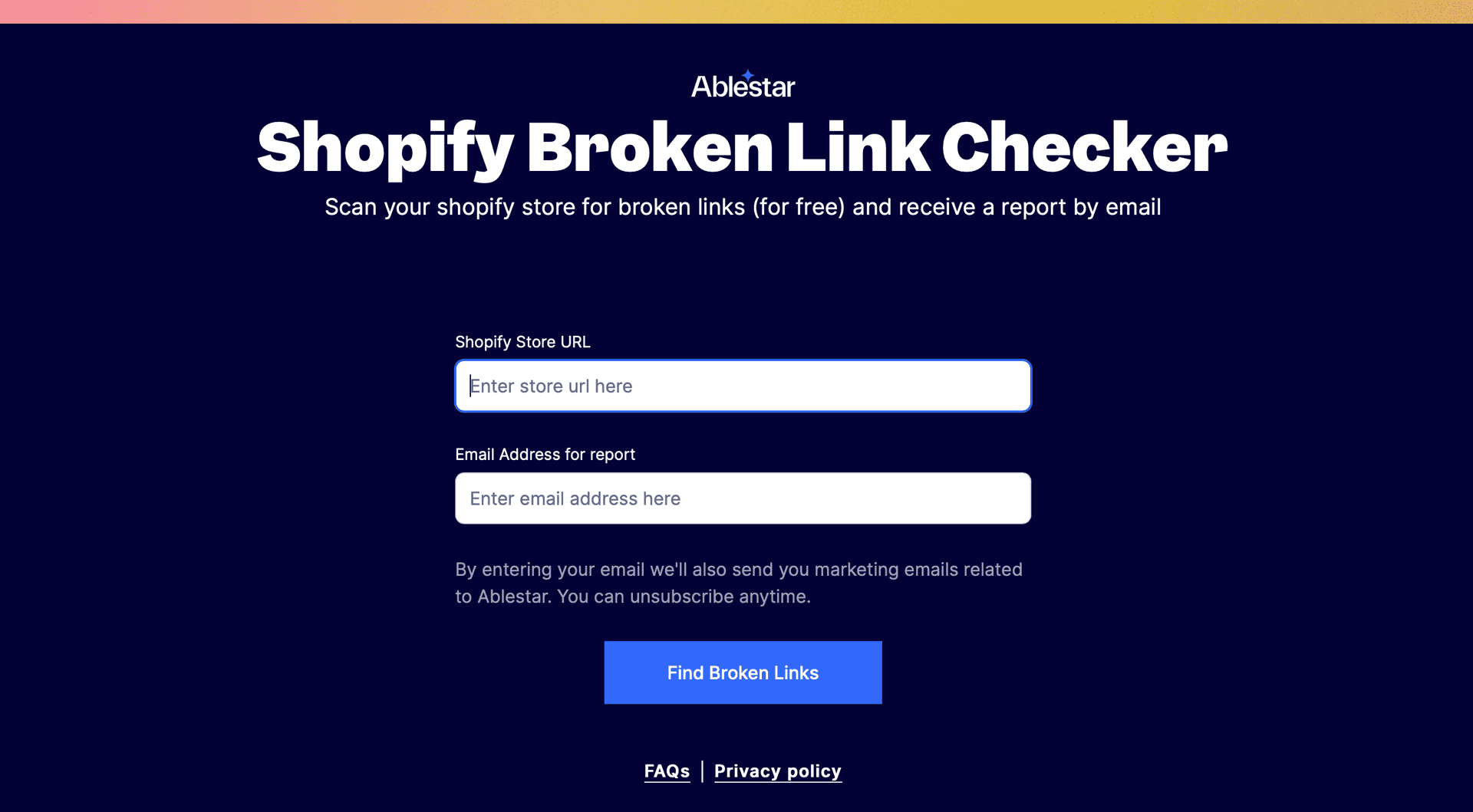 How does Shopify Broken Link Checker work?
Shopify Broken Link Checker crawls your site for broken links and 404 errors across your entire store, including product listings, collections, and blog posts.
You'll receive a spreadsheet report by email listing all errors found with the location, broken link, page type, and link to its admin page in Shopify. You can run the report as many times as you like or send it to different members of your team.
What can you do with Shopify Broken Link Checker?
Shopify Broken Link Checker is a quick and easy way for store owners to find and fix issues affecting their orders. With the tool, you can:
Identify broken links and 404 errors on your store
Quickly fix errors with shortcuts to the Shopify admin pages for updates
Clear your store of digital clutter
Assess where broken links are occurring so you can fix the source issue
Minimize product downtime and missed revenue
To safeguard your store against ongoing link issues that affect your domain rating, use Ablestar Link Manager. The app gives store owners complete link management control with the ability to schedule scans at regular intervals, track visitor traffic on 404 pages, and create redirects for broken links.
How to get started
You don't need an account to use the Shopify Broken Link Checker. Simply visit https://shopify.linkscanner.io/,enter your email address and the store URL that you want to scan, and click "Find broken links".