If you feel like you're running into roadblocks with your ecommerce platform, it may be time for an ecommerce migration. Don't let the term scare you. Also called ecommerce replatforming, a migration is the process of moving your online store (and everything in it) from one platform to another.
What are some of the reasons store owners choose to migrate an ecommerce store?
Performance. Slow and clunky interfaces can frustrate customers and hinder orders.
User experience. You spend hours each day in your ecommerce platform. Don't spend your time using technology that's painful to learn and use.
Scalability. If you started out with a very small store, your needs may now be very different with more products and stores. You may need a different solution to support more products or save you time with automation.
Moving from a marketplace to direct selling. If you've only sold products on a marketplace like Amazon or Etsy previously, you can take home more higher profit by setting up your own store.
Acquisition or merger. If you've acquired or merged with another ecommerce brand and will already need to invest time in merging stores, it's the perfect time to consider a new solution.
An ecommerce migration is a big undertaking, but it can really pay off. Using the right ecommerce platform can help you break through to the next level of growth. In this guide, we'll walk you through the steps to planning and executing an ecommerce migration, including:
What is involved in an ecommerce migration?
Ecommerce migration checklist
What to look for in an ecommerce platform
Side-by-side comparison of the 4 best ecommerce platforms
What is involved in an ecommerce migration?
While an ecommerce migration offers exciting new functionality, the process can still be daunting. With careful planning and help from ecommerce apps or vendors, replatforming your ecommerce store doesn't have to be a nightmare.
An ecommerce migration can take anywhere from a few weeks to over a year depending on the size and complexity of your store. Yes, you will need to dedicate time and money to research, build, and test your new store. Follow these steps for a smooth transition.
5 Steps in an ecommerce migration
1. Decision criteria
Before you start looking for solutions, outline your frustrations and limitations with your current platform. Set a budget and estimate how much money you may save or how much your revenue may increase with a new platform. Assemble a team of stakeholders to share input and create a list of must-haves and nice-to-have features on a new platform.
2. Systems planning
Determine if you will replace all parts of your tech stack, or if there are there parts (like payments systems and your CMS) that you'll keep the same. Map out these various systems and ecommerce tools and how they relate to one another. Depending on the complexity, you may want to consider a modular approach to these, migrating your payment system first to work out any issues before migrating your ecommerce platform.
3. Discovery process
Begin the search for the right ecommerce platform. Look for your "must-have" items and read reviews. Most importantly, sign up for a demo or free trial to let you and your stakeholders get a feel for it first. Try building some
4. Get setup support
Rather than managing the migration solo, some brands hire an ecommerce migration services vendor like a developer who specializes in building and migrating stores. You can also look for ecommerce apps and tools to make the transition easier. Since many partners specialize in a certain platform, it's recommended to choose your platform first.
5. Make a migration plan
Project planning is very important to a successful store migration. Designate a project manager to run point on the migration and map out the migration in phases. Consider using a project management tool like Asana, Trello, or ClickUp to keep all the little details from slipping through the cracks.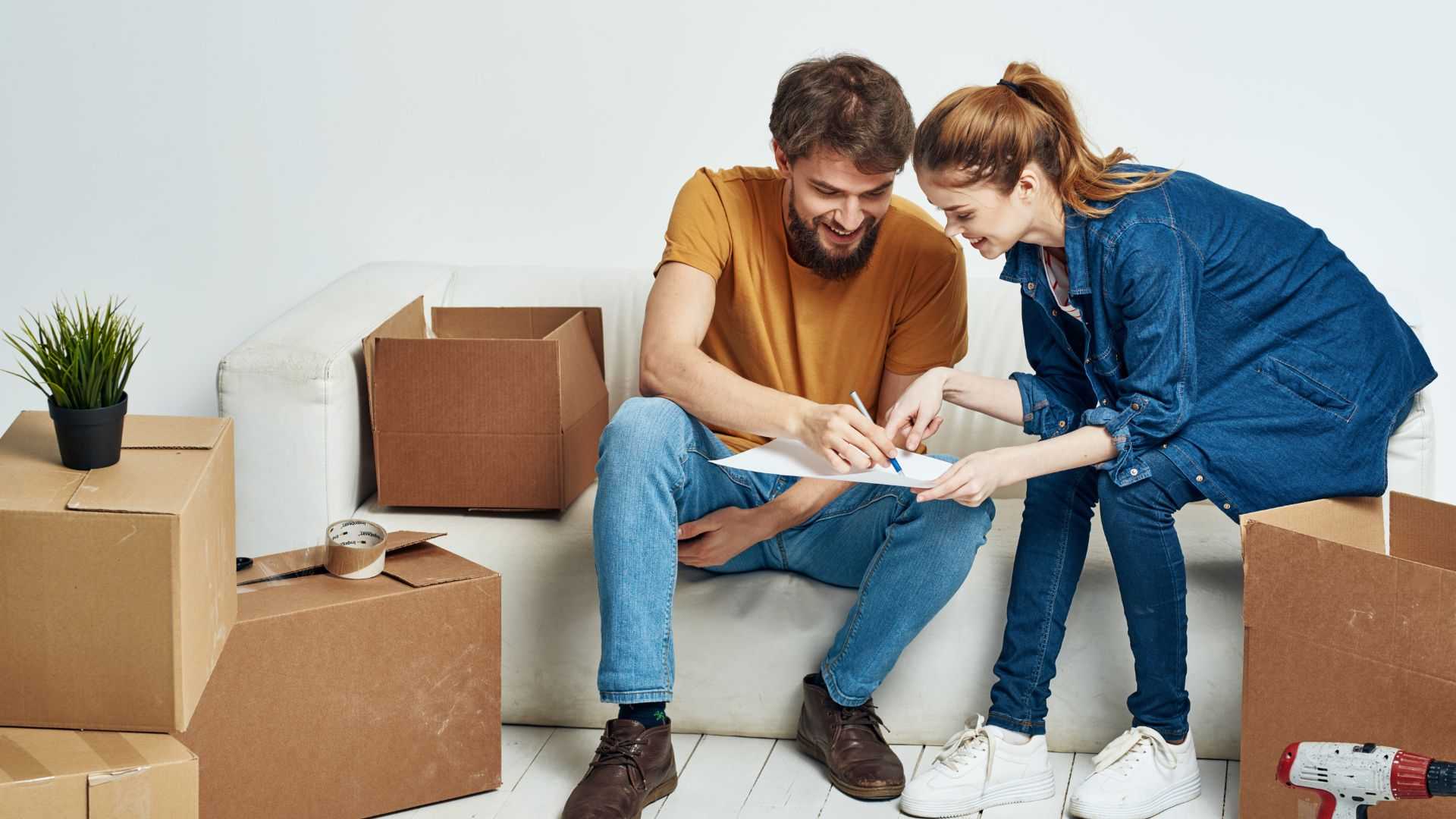 Ecommerce migration checklist: Steps for a smooth store transition
Once you've chosen a platform and made a plan, it's time to start the process. A migration involves a lot of data and small steps that need to work in sync. While these steps may differ in execution depending on the platform, the overall process will be the same. We've compiled a checklist to keep you organized.
Open your new account and learn the interface
Configure your store settings (admin, shipping, taxes, payments)
Import your initial products
Import your initial orders
Set up your theme
Update products and orders in the new platform
Organize your product catalog with collections, tags, etc.
Set up any apps, plugins, or workflows you need
Create URL redirects
Create customer activation links
Test your store repeatedly to make sure that it's working correctly—run test orders, check for broken links, and do an SEO audit
Go live! Switch your domain to point to the new one
Publicize the new store to your customer base
Prompt customers to reset their passwords with activation links
What to look for in an ecommerce platform
Choosing the right ecommerce platform is a critical choice that will drive your store's success and determine how well you're able to operate and scale. Here are a few key criteria to look for when choosing an ecommerce platform.
User experience. Before you can launch a beautiful storefront for your customers, the most important user is you. A user-friendly interface with helpful resources can save you hundreds of hours of frustration and troubleshooting.
Fast performance. Fast loading times and minimal downtime increase conversions, user experience, and SEO rankings.
Mobile-optimization. Websites optimized for mobile traffic will rank higher by default. Look for a responsive ecommerce website builder.
Integrations. Most platforms offer some kind of a marketplace with ecommerce tools to integrate your platform with the tools you use and love (think marketing, shipping, or accounting). Make sure the new platform can integrate with the rest of your tools.
Payment options. Look for multiple payment providers you can offer to your consumers. You'll also want to compare fees—some ecommerce platforms add an extra fee on top of third-party providers, while others don't.
Omnichannel sales. Some platforms integrate your store with marketplaces like Amazon or Walmart.
Technical support. Store downtime or technical challenges can have serious financial ramifications for your business. Look for a platform with 24/7 support on your communication method of choice.
Mid-market and enterprise companies may also want to look for premium features like personalization, multi-currency and language support, product recommendations, and advanced analytics.
4 Best ecommerce platforms: Pros and cons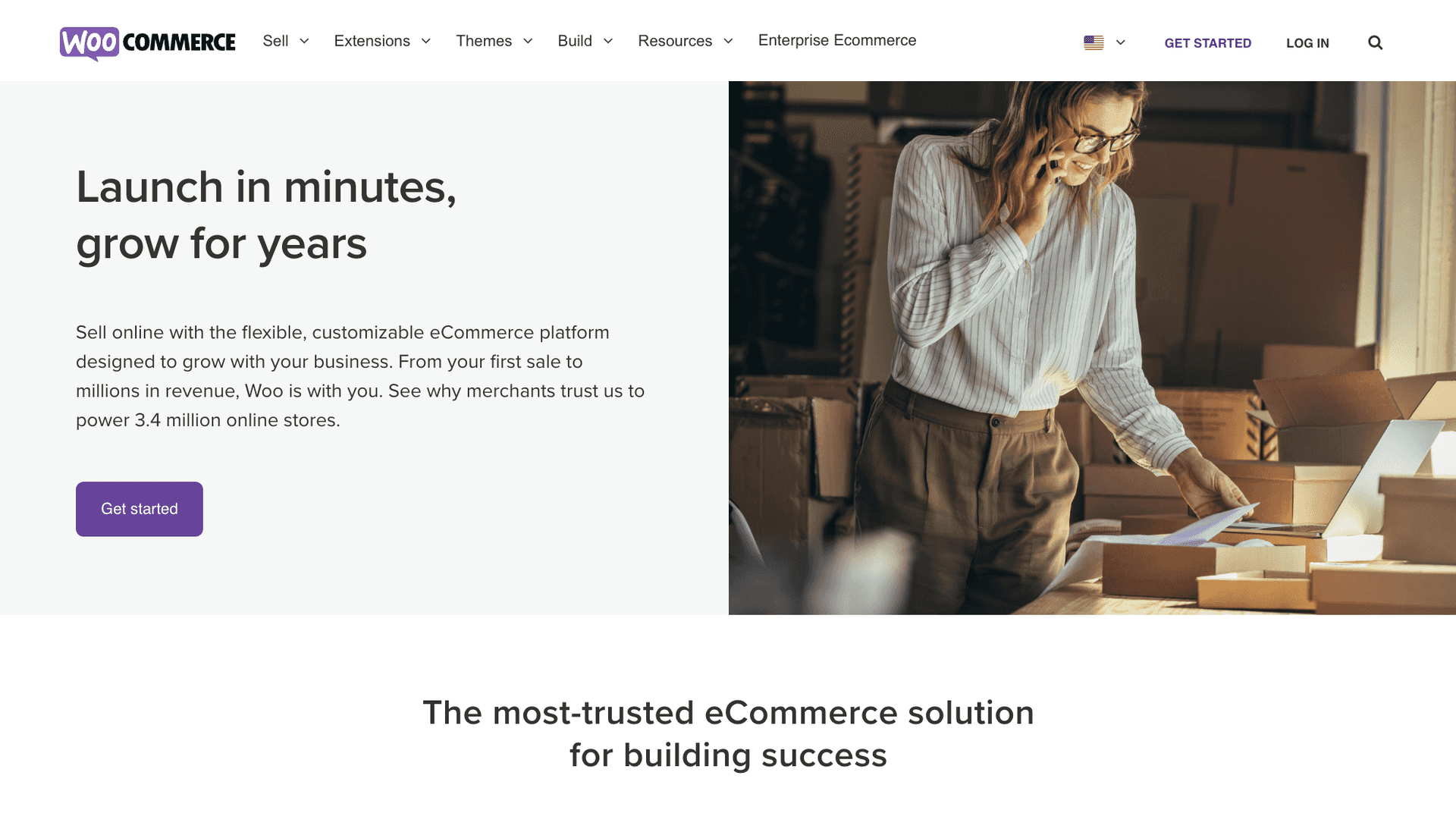 WooCommerce
WooCommerce is an open-source ecommerce platform that lets you build an online store on a WordPress site. WooCommerce is popular among small business owners, powering 3.4 million stores, and receives high ratings for usability at 8.8/10. It's a no-code, low-cost option for building a storefront. Because it's not a hosted service, you'll need to purchase a domain name, web hosting, and SSL certificate separately.
Pros
Free to use at the basic level
You can accept deposits and sell services including bookings and pre-orders
Lots of customizations and WordPress extensions available
Rated best for SEO
Supports multiple currencies with WooPay, Apple Pay, Google Pay, GiroPay, and more
Cons
Extra costs for premium themes
Because its functionality is built on third-party plugins, themes, and hosting, it can be resource-intensive to get everything installed and running
Customer support limited to email and chat and only covers the platform code. If you have questions about your hosting setup, or if your website crashes, you'll need to hire someone to fix it.
Not built for enterprise—large quantities of products or orders can cause slow performance
Price
$0+. While the basic software is free, you'll pay for premium themes, extensions, hosting, and transaction fees. Expect to pay a bare minimum of $100/year for hosting and domain services.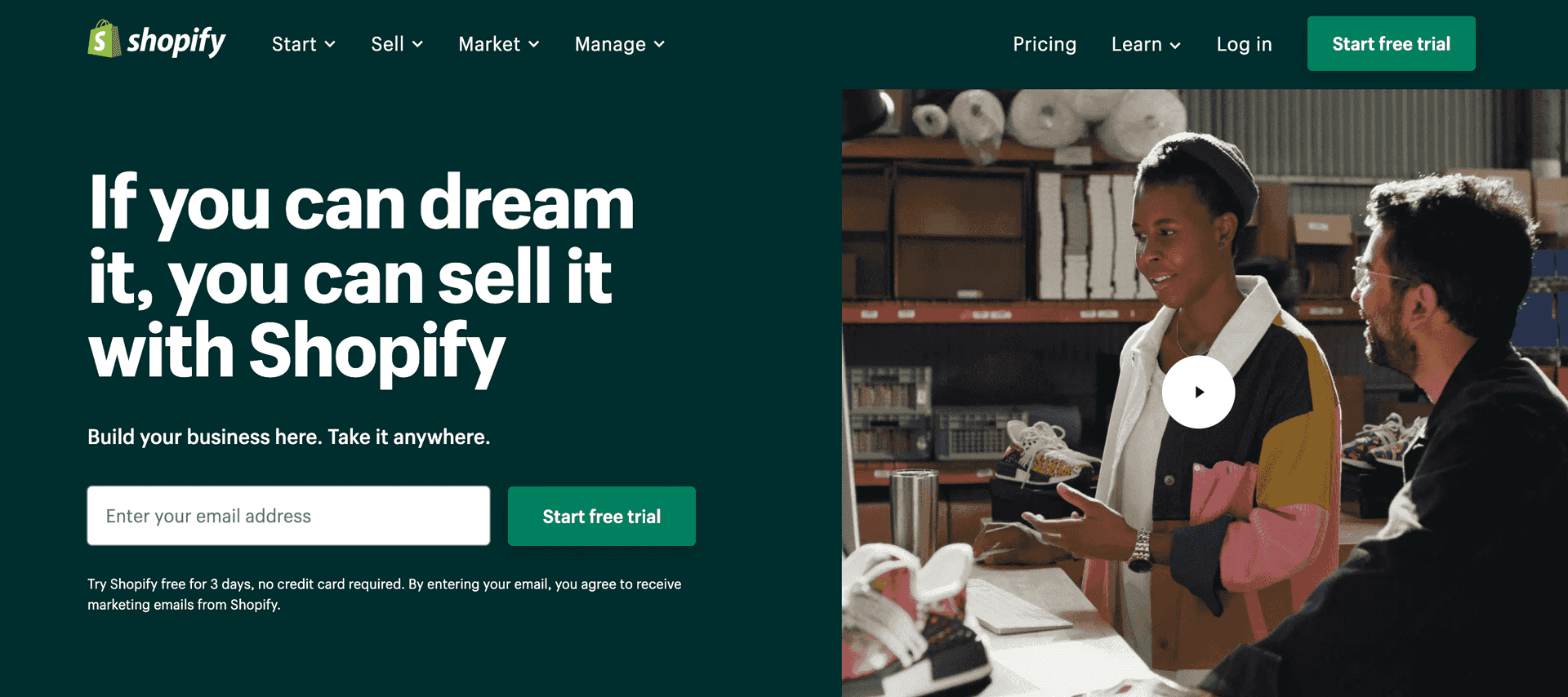 Shopify
Shopify powers more than one million online shops and tops the ecommerce market for easy-of-use and functionality. Shopify users rate it highly on its checkout process, shipping options, and order management and give it a top usability rating of 8.9/10. Shopify offers dropshipping integrations and two-day shipping through the Shopify Fulfillment Network. It also lets store owners manage multiple stores and automate workflows through its Shopify Flow feature. Shopify Pro, Shopify's enterprise product, offers a wider range of features.
Pros
User-friendly interface with drag-and-drop page builder
Hosted solution—no worrying about servers and databases
24/7 customer support by phone or email
Wide range of payment methods and plugins
Dropshipping integrations
Omnichannel selling
POS functionality, with payment methods including Klarna, Afterpay, Sezzle, or Shopify Payments
Nearly 7,000 ecommerce apps and plugins, many of which are free
Workflow automation through Shopify Flow
Native support for printing labels
Integrates UPS, USPS, and DHL Express shipping with steep discounts
Cons
With just 9 free themes, there's an extra cost for premium themes
You need a third-party app to support customer reviews
Checkout isn't customizable
Limited currency options
Transaction fees on third-party payment providers
Price
$29 – $299+/month with a 50% discount on annual plans for the first year. Shopify Plus starts at $2,000/month.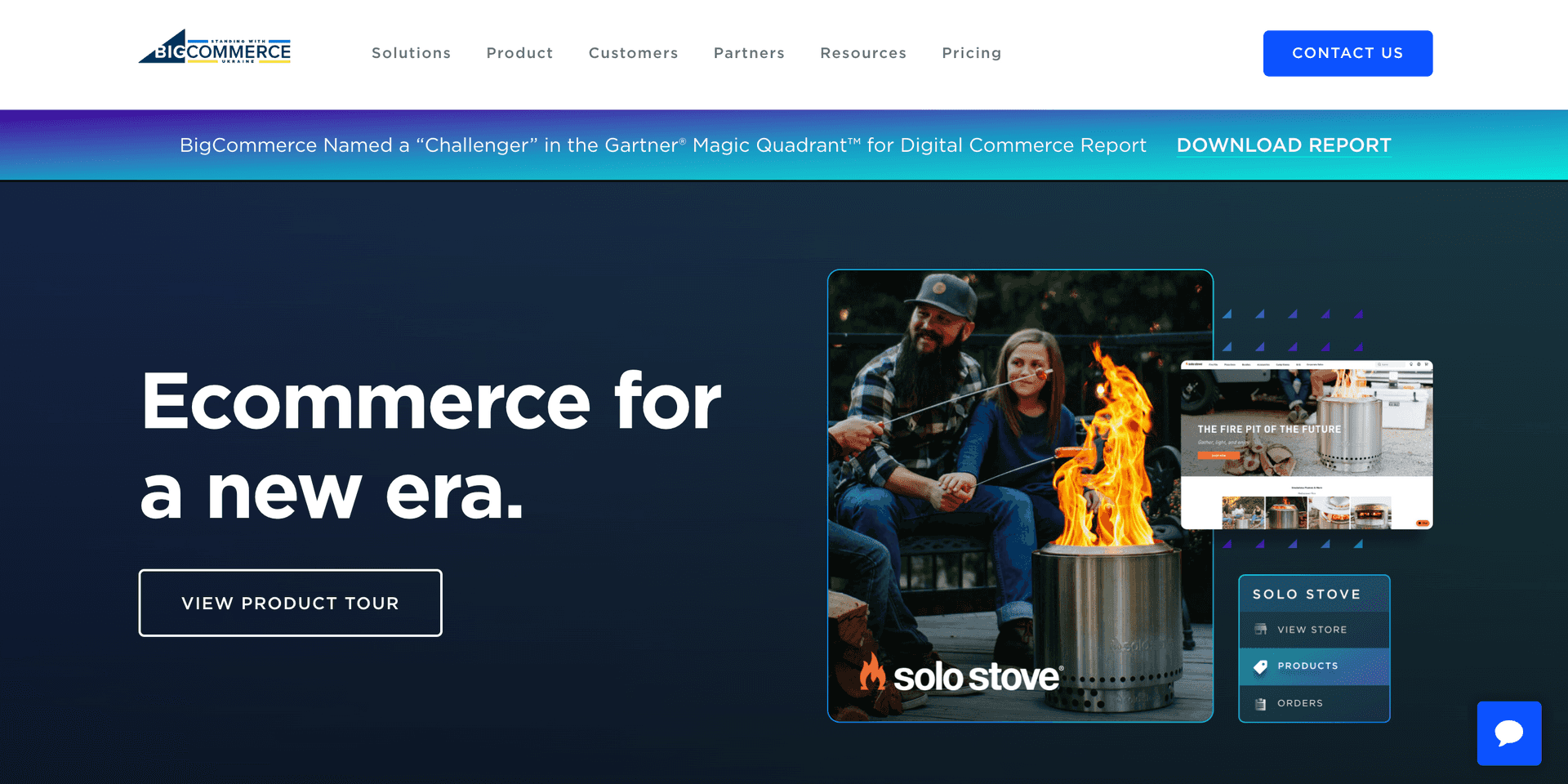 BigCommerce
BigCommerce is a smart choice for shops with large inventories and offers multiple tiers and enterprise plans to scale with you. Their pricing is based on your sales, so keep in mind that you may need to upgrade as you grow.
Pros
Unlimited products storage, and bandwidth
Complex inventory management with up to 600 variants per SKU
Native customer ratings feature
Around 1,200 apps and plugins
24/7 customer support with phone, chat, and email
55 payment providers including Apple Pay, Google Pay, and Amazon Pay with no added transaction fees
Omnichannel selling with integrations to Amazon, eBay, Walmart, Google Shopping, Facebook, and Instagram
Accepts over 100 currencies
Cons
Plans have a cap on annual sales, so you may be forced to upgrade
Extra costs for premium themes and domain name
More complex to set up and use
You'll need a plugin to print shipping labels
Price
$29.95 – $299.95+/month with a 10% discount on some annual plans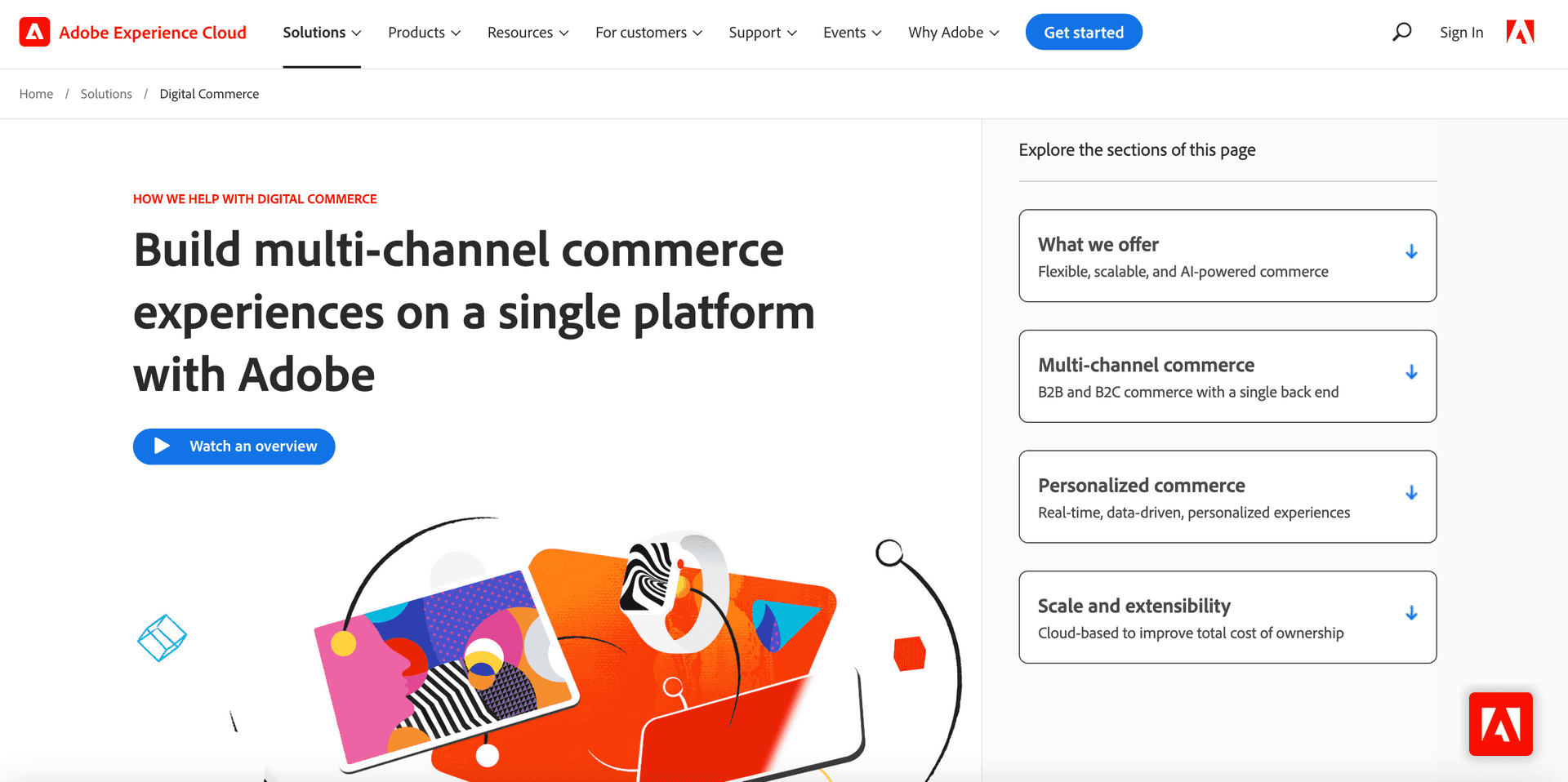 Adobe Commerce (formerly Magento)
Adobe Commerce, formerly known as Magento, provides an ecommerce solution embraced by small, mid-market, and enterprise brands alike—with clientele including Procter & Gamble, HP, Nike, and Cisco. While ratings for usability (8.3/10) and overall user satisfaction (4.0/5) are somewhat lower, the platform offers scalability and functionality that other platforms don't. As open-source software, Adobe Commerce has a rich community with many developers, apps, extensions, and themes. Its API options make front-end customization practically limitless. The downside? It's more expensive and difficult for small businesses to launch a shop on their own.
Pros
Drag-and-drop page builder
Personalization features based on omnichannel data
Omnichannel sales integrate with Amazon Sales Channels
Supports multiple countries and currencies and personalization for markets
Intelligent commerce by Adobe Sensei provides AI-powered features such as product recommendations
Integrates with other Adobe analytics products including Real-Time CDP, Target, and Experience Manager
Unified dashboard to review reports across payment types (PayPal, Venmo, Apple Pay)
Cons
More difficult to learn and use
Limited customer support
Lower ratings for performance and reliability (7.7/10)
More expensive option
Price
Contact Adobe for a custom quote—costs typically start in the thousands per year
How to migrate from WooCommerce to Shopify
WooCommerce with WordPress is one of the most common starter platforms for an online store. Because of this, lots of store owners find themselves outgrowing it as they scale. Let's look at how to migrate your WooCommerce store to Shopify, the market leader of ecommerce platforms.
There are a few ways to migrate your store from WooCommerce and WordPress to Shopify.
Option 1 – Export WooCommerce products to CSV to import products to Shopify
Shopify's Migration Hub has templates and guides to help you manage a store migration on your own. First, you'll need to export WooCommerce products into a CSV file along with your customer and order data. Then clean your data—manually remove any duplicate or outdated products that you won't need in your new system.
Next, perform a data assessment of your CSV file to determine if your transfer is Simple or Standard (Simple is shops with no product variations or matrices). Depending on your store type, you'll use the Import Column Editor in Shopify Admin (Simple) or a Product CSV Assistant template (Standard).
Importing your simple store data with a CSV is manageable, but using the Shopify Admin still risks human error or validation issues. If your store needs a standard transfer, you'll need to use some advanced spreadsheet editing to get your spreadsheet to where it needs to be. For both these options, visit the Shopify Migration Hub. With this approach, you'll be on your own for a few key items:
Set up URL redirects from your WooCommerce site admin
Ask your customers to reset their passwords (Shopify's Bulk Account Inviter is only available to Pro users)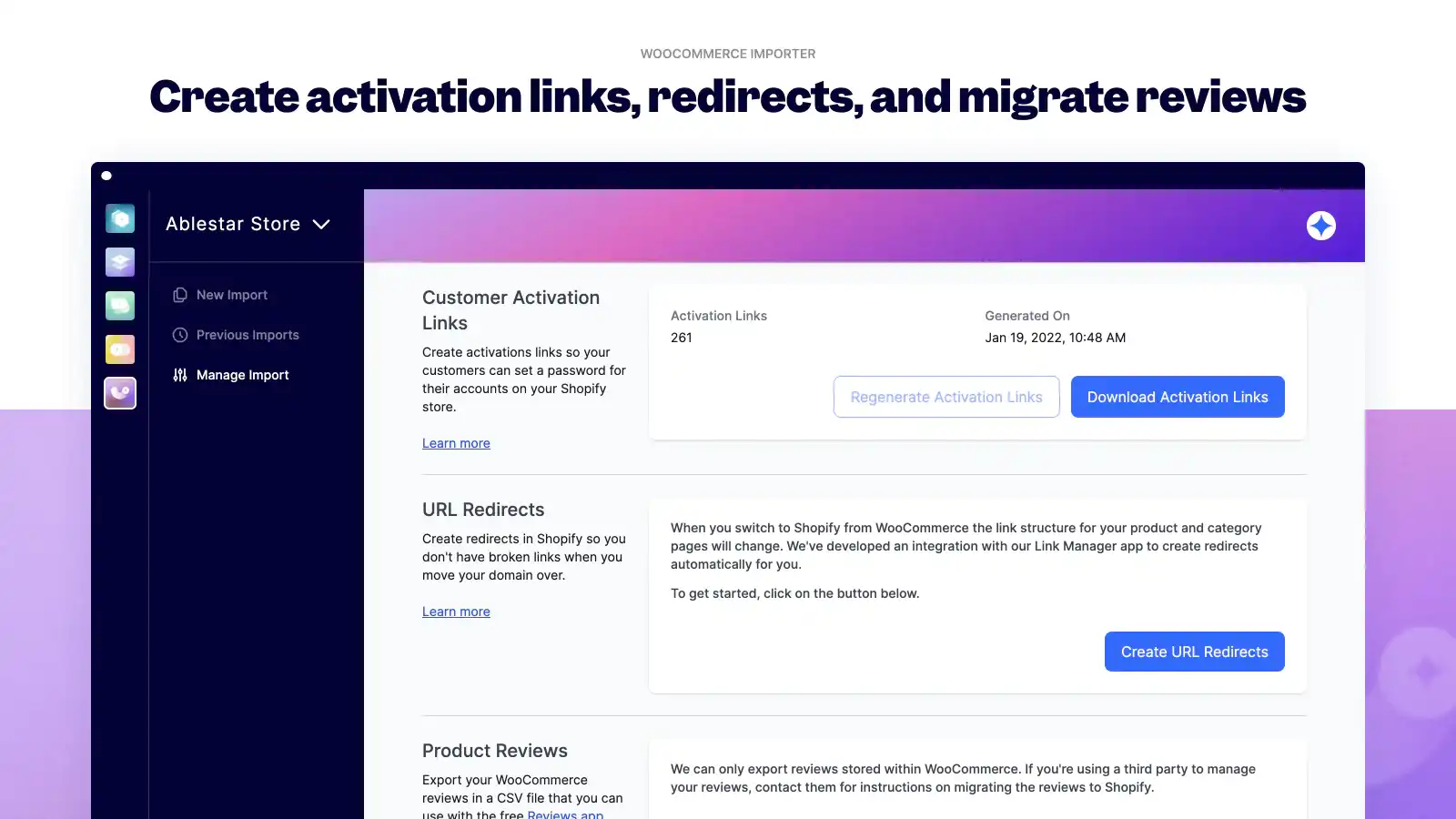 Option 2 – Manage your store migration with Ablestar WooCommerce Importer
Your second option to transfer your WooCommerce store to Shopify is to use an app to ease the process of data migrating. With Shopify discontinuing its own Store Importer app in November 2022, you'll need to download a third-party app from the Shopify App Store like Ablestar WooCommerce Importer. Importer apps use an API to extract and transfer your data—no importing or exporting CSVs needed.
Here's how it works:
Set up your Shopify account and download the Ablestar WooCommerce Importer from the App Store
Generate an API key from your WooCommerce account
Use 'New Import' in the WooCommerce Importer app to add your API credentials and start the process
Choose which data to move over to Shopify (product titles, descriptions, variants, images, categories, tags, and more)
Import 20 products as a test to see if you need to make any adjustments, then continue importing your entire product catalog
Import your orders and customer through the app
Make any bulk changes to products with Ablestar's Bulk Product Editor
Post-import, there are three important benefits the app offers. First, it generates URL redirects for each of the products. Since WooCommerce and Shopify have different URL structures you may have a lot of broken links when you first switch to Shopify.
Second, Ablestar generates activation links for all your customers that you can distribute through your email provider to prompt users to reset their passwords. Third, it imports reviews to Shopify for you. Other app benefits include unlimited re-imports, a thorough knowledge base, and responsive customer support to help you with questions or custom import requests.
Revamp your online selling and management with an ecommerce migration
As a busy store owner or ecommerce manager, the thought of building out a new online store while you continue to run your current one may fill you with anxiety.
The truth is that a new ecommerce platform can free up time in your schedule by saving you hours of frustration troubleshooting a broken system. A migration gives you a fresh start to reset your processes and clean up "clutter" from your shop and workflows.
While replatforming takes a resource investment, a better ecommerce platform will help you sell more, manage better, and grow your business.
Replatforming to Shopify? Simplify your ecommerce migration with the Ablestar WooCommerce Importer.