How do you showcase home products without a showroom? By building your digital house, of course.
Retailer House of Isabella earned its name from the founder's grandmother who kept an immaculately decorated English home. When Stephanie and Richard Curry founded House of Isabella in 2010, they didn't anticipate how much their family business would grow. Thirteen years later, they have offices in London, Sydney, and Perth, selling to customers, interior designers, and hoteliers.
Luxury interior decor, accessories, and modern furniture are just a few of the items you can buy from House of Isabella. Without a physical showroom, their online store is the crux of their business. Their website needs to reflect the modern aesthetic their customers love and be easy to use and manage. As their business grew, the Currys chose the Shopify platform for this task.
"One of the reasons for moving to Shopify was all of the apps that could automate a lot of the workflow we had to do manually before," shared Richard. "We looked at a couple of options for stock sync and bulk editing. We really loved the support and help we got from Ablestar."
To convince customers to pay hundreds of pounds for a luxury mirror or chandelier sight unseen, House of Isabella depends on stellar product listings. Each item needs beautiful photos, a compelling title and description, and practical product details like weight and material.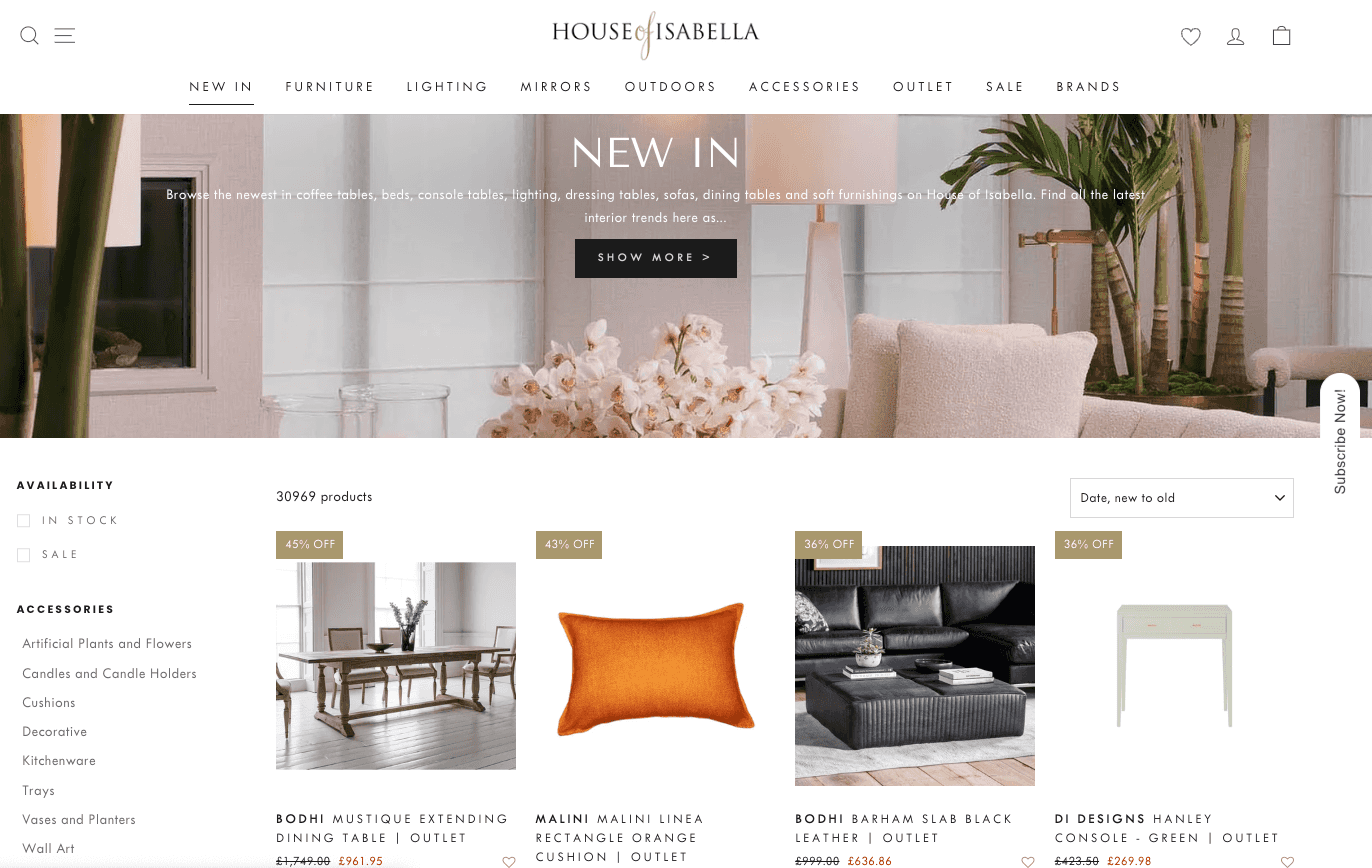 From manual spreadsheet updates to automatic workflows
In its early days, House of Isabella used a manual process to add or edit products. They needed to perform any bulk edits or product uploads in a spreadsheet and send it over to a developer to sort and upload.
Once they replatformed to Shopify, House of Isabella saved time and money by eliminating this manual step. Now, their team uses the Ablestar Bulk Product Editor app to perform bulk edits including pricing refreshes, tagging items, and changing product weights. They also use stock sync to ensure their inventory updates on the website in real-time.
The effect has transformed their sales and business processes.
"We literally had to employ someone to do the tasks that Ablestar allows us to do now," said Richard. "Now with Bulk Product Editor, anyone on our team can do bulk edits at any time. It is quite simply the best app on Shopify in our opinion. We would struggle without it."
Beyond saving money, the Currys have a few favorite reasons to use Bulk Product Editor:
1. Avoiding errors
"Bulk Product Editor is very user-friendly and flags errors automatically. There is a history and an undo option so it is easy to figure out where you went wrong."
2. Undo edit option
"We use the undo edit at the end of a sale or to correct pricing changes. It's a very useful function for our store."
3. Customer support
"It is very user-friendly and the support staff are amazing when we need help. Nothing ever seems too much trouble. They always seem to find a solution too!"
4. Time savings
"So much time is saved!"
Using Bulk Product Editor enabled House of Isabella to cut expensive resources that cut into profits and slowed down campaigns. With quick and seamless bulk product editing, the retailer can manage three ecommerce stores with confidence.
Ready to ditch slow, manual edits? Take control of your time and products and get started with Ablestar Bulk Product Editor today.